Books

Organization

Union
Related Topics
'Hobbit' Affair Still Rankles NZ Unions
Digital Media Law
NOVEMBER 28, 2012
As fans of The Hobbit scanned the red carpet at the film's premiere in Wellington last night, some New Zealand activists are still bitter about the outcome of a failed unionization attempt in 2010, even as NZ Actors Equity is finally making progress in negotiations with the country's producers association. Normal. 0. false. false. false.
The Future for Television: More Google Union-Busting
Music Technology Policy
FEBRUARY 9, 2012
Google Backed Netcoalition's Anti-Union Dirty Tricks Campaign. This flyer was circulated by the Net Coaltion lobby shop in Washington recently.  As you will see it clearly refers to a "host of union thugs" who had the temerity to oppose Net Coalition backer Google and other giant consumer electronics companies.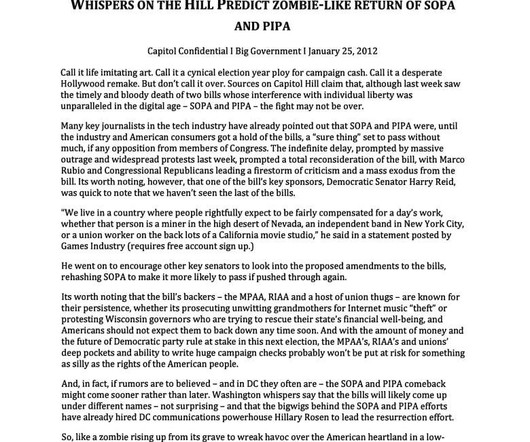 AFTRA Endorses IATSE 'Biggest Loser' Organizing Campaign
Digital Media Law
NOVEMBER 14, 2010
The union issued an unequivocal statement of support. Watch for my new book "Hollywood on Strike!," due out next month. If you work in tech, check out my book How to Write LOIs and Term Sheets Details in my Hollywood Reporter piece. -. Subscribe to my blog ( jhandel.com ) for more about entertainment law and digital media law.