Books

Organization
Related Topics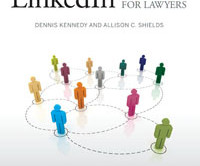 Two Books Help Lawyers Get LinkedIn
Media Law
SEPTEMBER 10, 2012
The Knapp/Dayton book sells for $69, while the Kennedy/Shields book is $34.95 (or $19.95 for LPM Section members). Make it interesting."
Oracle v. Google Judge Writes the Book on Software Programming Copyright – For Now, Anyway
New Media and Technology Law
JUNE 6, 2012
The court ruled that the elements of the Java API, including the structure, sequence and organization, are not protected by copyright. Analysis of the tension between copyright law and patent law was central to the claims in the structure, sequence and organization of the API. could do it, you could do it.". judge who codes. 
WGA in Organizing Struggle with Comcast
Digital Media Law
NOVEMBER 19, 2010
Watch for my new book "Hollywood on Strike!," due out next month. If you work in tech, check out my book How to Write LOIs and Term Sheets Style, and G4 writers seek immediate guild representation; Comcast refuses, and is forcing a government-supervised secret ballot election. Details: The Hollywood Reporter.