Bargaining

Books
Related Topics
AFTRA Board Approves Joint Bargaining With SAG
Digital Media Law
FEBRUARY 27, 2010
At a videoconference meeting today in New York and LA, AFTRA's national board unanimously voted to approve joint bargaining with SAG for the Primetime Television Contract and the SAG TV/theatrical contract. After weeks of talking turkey at the bargaining table, negotiators will probably be ready for their holiday.
SAG Moves towards Joint Bargaining with AFTRA
Digital Media Law
JANUARY 31, 2010
The SAG National Board yesterday passed a resolution, by a surprising 82% to 18% vote, directing the guild's president and National Executive Director to "seek engagement with AFTRA in a joint bargaining agreement for negotiation of the Television/Theatrical Contract," as quoted in a SAG press release.
SAG-AFTRA Joint Bargaining: AFTRA Hesitates, Slightly; and More
Digital Media Law
JANUARY 26, 2010
An AFTRA committee, expected to recommend joint bargaining with SAG, instead referred the matter to a subcommittee, the Hollywood Reporter and The Wrap reported. As the Strategy Cabinet's action indicates, there wasn't 100% agreement in the room regarding joint bargaining. Curious about details, I contacted a source close to AFTRA.
AFTRA, Networks Reach New Three Year Deal
Digital Media Law
DECEMBER 9, 2011
An AFTRA statement confirmed the issues' importance, calling the 1% increase the union's "primary objective" in the bargaining. Check out my new book "Hollywood on Strike!," If you work in tech, take a look at my book How to Write LOIs and Term Sheets Details: The Hollywood Reporter. _. Check out my residuals chart there too.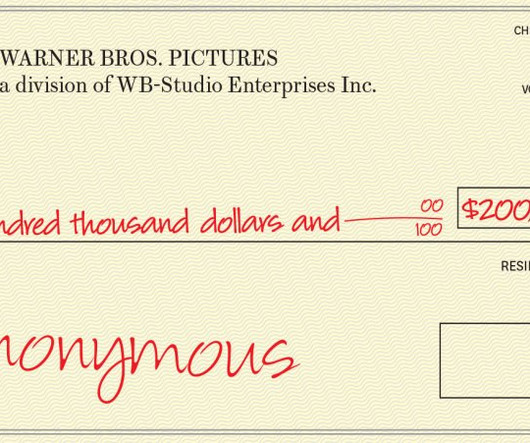 Reflections on L.A.'s nascent producer's league. Treason… No, but…
Gordon P. Firemark
JULY 4, 2012
Theatre producers who're forming a league to serve as a collective bargaining representative, advocate, and promotional collective. the book and film are worth the time, as well). Frequent readers probably know that I have lately been involved with a group of L.A. It's important work, and it's hard. Can you imagine?
CREATIVE ACCOUNTING
Entertainment Law Resources Blog
OCTOBER 6, 2010
No doubt, there are numerous instances where producers or distributors have cooked the books to avoid paying back-end compensation to those entitled to it. The studio uses its leverage and superior bargaining position to pressure talent to agree to a bad deal. The general consensus among filmmakers is that net profits are illusory.
Baby You Can Drive My Car: Hollywood Health Plans May Have to Pay "Cadillac Plan" Tax
Digital Media Law
JANUARY 12, 2010
Hollywood unions have long bargained for great health benefits, often foregoing a portion of wage increases in order to fund those benefits (as well as valuable pension benefits). If you work in tech, check out my book How to Write LOIs and Term Sheets. Go to the blog itself to subscribe via RSS or email.
Example of "New Boss" Contracts: The YouTube covenant not to sue
Music Technology Policy
JUNE 22, 2012
Clauses like this define onerous, over reaching and misuse of bargaining position. In case you needed some proof, here is an excert from a "New Boss" contract, being Google's indie publisher license for YouTube (Google's heavily subsidized and dominant entry into the video and video advertising verticle). "